Tent Rentals in Baltimore MD
If you're looking for a tent to rent in the Baltimore MD area, you've come to the right place! Party Party Event Rentals stocks several styles of tenting for all occasions. From 10'x10'-60'x300' we'll make sure to match the perfect tent to your special event.
Standard Frame Tents
Available sizes range from 10'x10'-20'x200'
Frame tents are extremely versatile, lightweight, and an industry staple. They can be installed on any surface type and can be staked or concrete blocked. Built with 2" aluminum poles and sectional tent tops, they can be built into almost unlimited lengths. These are great for a variety of events, like backyard parties, fairs, festivals, and covering decks during winter events. See more info Standard Frame Tent.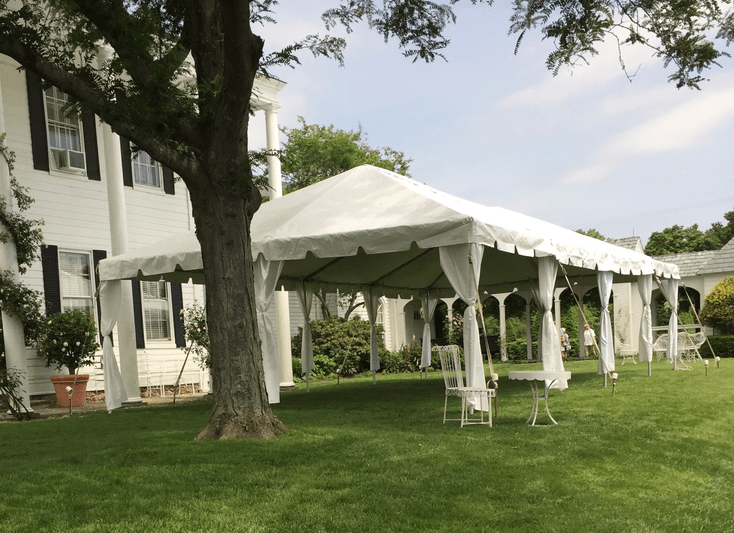 High Peak Frame Tents
Available sizes range from 10'x10'-20'x30'
High peak frame tents are designed to look like a high peak pole tent without the center poles. This leaves the interior of the tents with more open, usable space. Built with 2.5" pipe and featuring a cable and mast design, the tent tops can be tightly tensioned with no creases or wrinkles. These quick to set up tents are ideal for back yard parties, festivals, and catering tenting. Check out High Peak Frame Tents.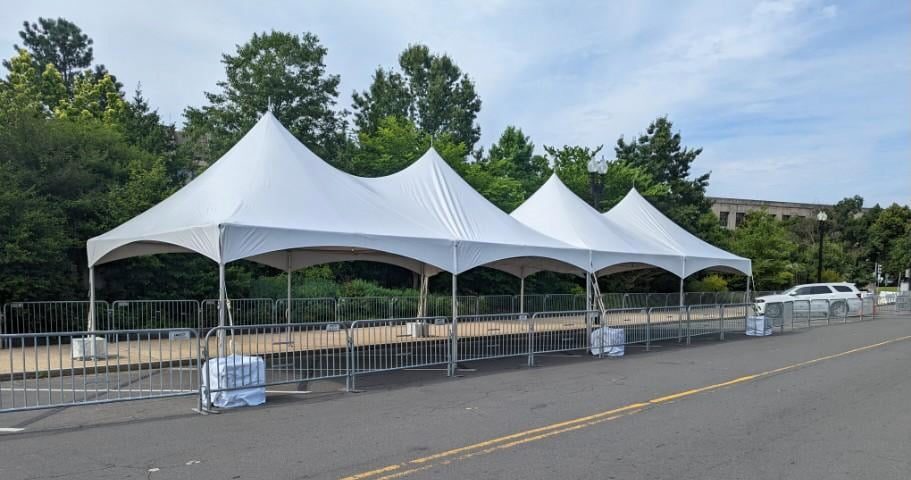 Marquee Frame Tents
Sizes range from 10'-100' length and 6′, 9′, or 10′ width
Marquee tents are similar to the standard frame tents, but are primarily used as entrances or walkways between tents. With their flat gable end they can be placed securely against buildings or other tents. Marquee tents allow for flexibility in designing an event layout or as another option for smaller areas and venues.
Jumbotrac Frame Tents
Available sizes range from 20'x30'-50'x195'
The workhorse of our inventory. Jumbotrac frames are engineered keder-trac tents that use 2"x4" box beams. These beams allow the vinyl to be pulled or slid into each section. The keder system allows the vinyl to be tensioned tightly and securely, making them the most weather resistant tent in our inventory. Jumbotrac can be installed at either 8' or 10' leg heights, with leg spacing at either 15' or 20' apart. Available in either white vinyl tops or clear tent tops. They are perfect for weddings, high end corporate events, and any other event which requires large unobstructed interior spaces. Jumbotrac can also be configured as a bandshell tent for outdoor music festivals. Add Jumbotrac Frame Tent to your cart.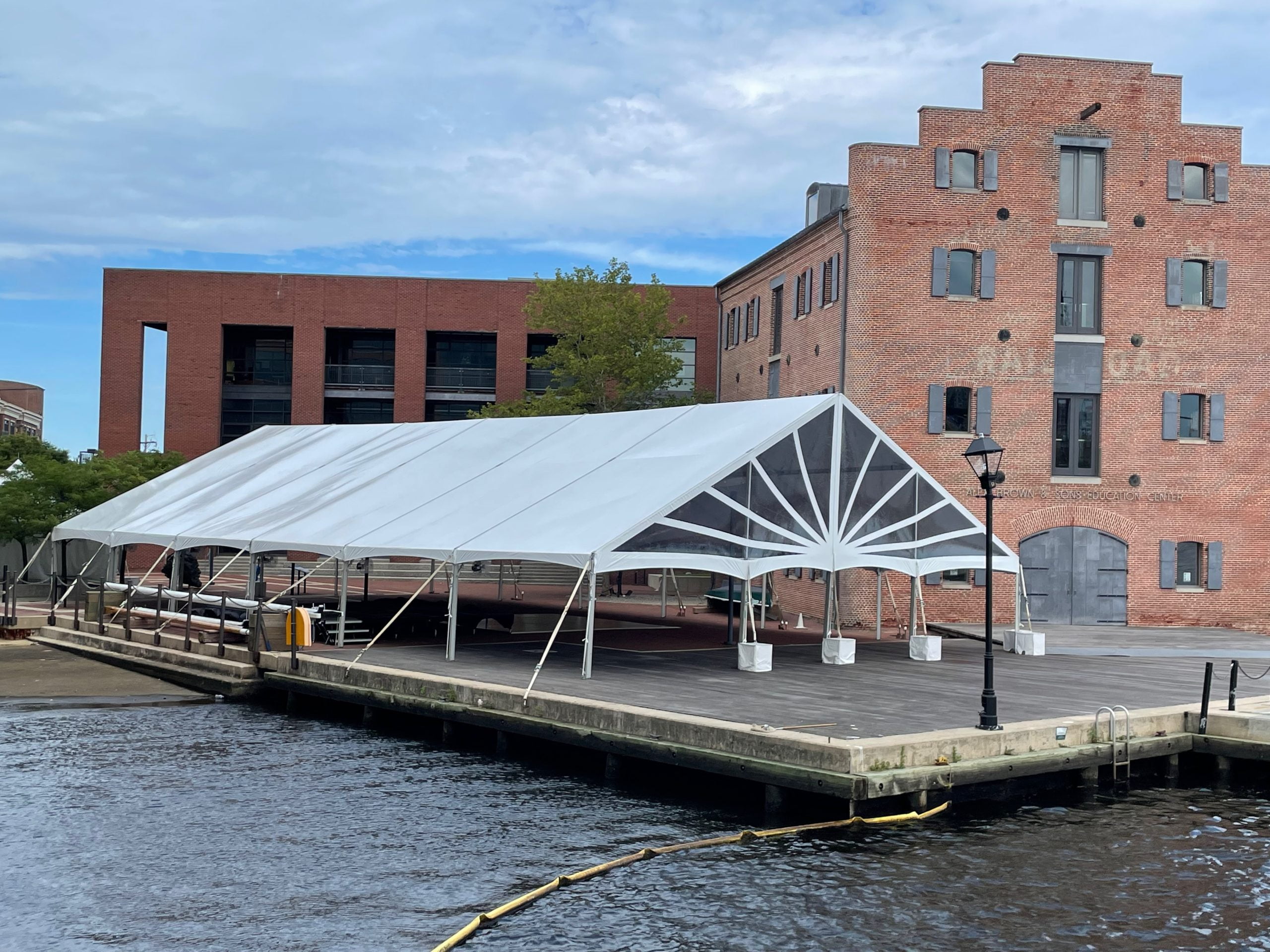 High Peak Pole Tents
Available sizes range from 40'x40'-60'x300'
High peak pole tents are the classic wedding tent. When most people think of a tent, they think of the high sweeping curves and peaks of this style tent. The peaks are supported by center poles in the interior of the tent. The pole tent is also the most economical way of covering large areas. They're best suited for weddings, festivals, and company luncheons. Available in single pole 40′ widths and double pole 60′ widths. Click High Peak Pole Tent for more information.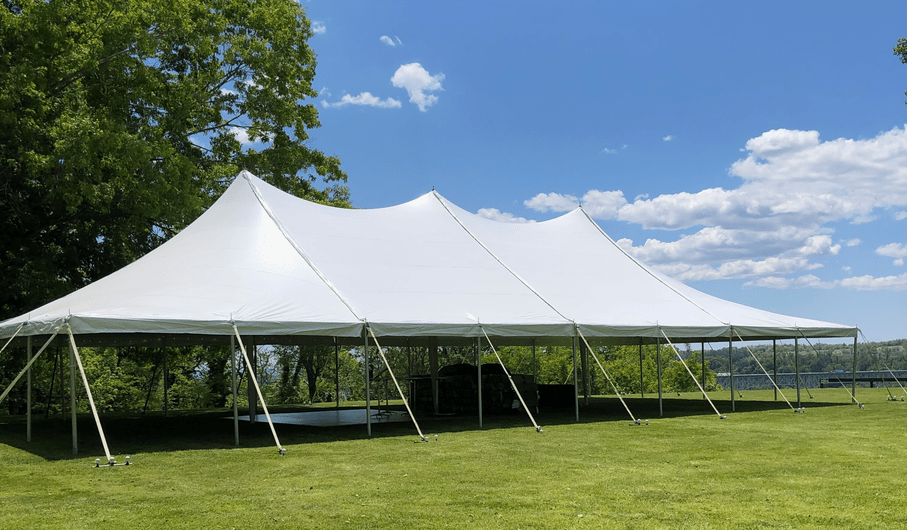 Sailcloth Tenting
These tents are available in 45'x64'-59'x99'
Aurora sailcloth tenting feature a lightweight translucent nautical themed tent top. This allows them to glow during a night-time event. Complete with real wood side and center poles, these tents are incredibly beautiful. Since they are a pole tent, they must be staked. These tents are perfect for high end weddings and events. Sailcloth tent rentals are available throughout Baltimore, MD. Check out the Sailcloth Tents gallery.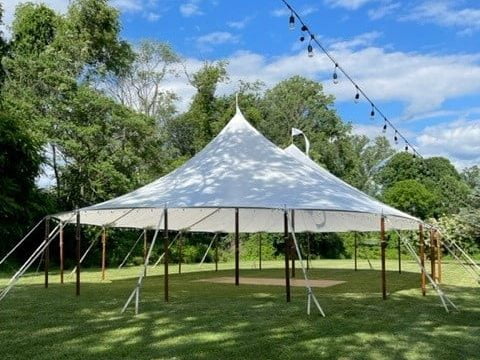 We have Everything to Rent for that Special Event!